Every trucker has his or her favorite on-the-road accessories, but the one thing no trucker should be without is a commercial truck GPS unit. These handy little devices are no longer limited to just giving directions. Modern GPS units can warn you of upcoming dangers, many specific to trucks like low bridges, and keep you abreast of real-time traffic situations. They help you navigate around weather, find points of interest, and discover the cheapest fuel prices. Some now even link with your ELD to help seamlessly log hours.
With frequent model upgrades and constantly evolving features, finding the best truck driver GPS can be a bit overwhelming. We're here to help you break it down.
The two big names in the commercial truck GPS industry are Rand McNally and Garmin. These two brands are consistently trading the gold medal in Best Trucker GPS depending on which company has the most current release. When it comes to choosing between Rand McNally vs Garmin, you really can't go wrong with either one. However, small differences in features may be a deciding factor for you.
Here is our comparison on the latest McNally and Garmin commercial truck GPS models as of May 2017.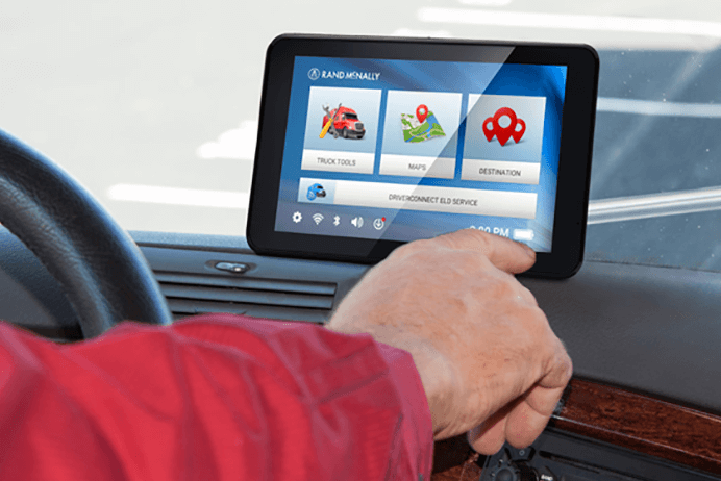 Rand McNally TND 740 Review
This is the latest McNally GPS announced in March 2017. It was released in May 2017. Its updates include quad core processing for faster routing and all-around processing, and it includes twice as much internal storage. The 740's large 7" HD screen is sharper than any previous model.
Rand McNally TND 740 Pros:
ELD-compatibility (Works particularly well with the McNally ELD-50)
Audio out to truck's speakers (No more straining to hear the tiny GPS speakers)
$500 Progressive gift card offer (If you agree to allow Progressive Insurance company access to your driving data, you can essentially be paid to use this unit.)
Rand McNally TND 740 Cons:
Reliability—Truckers have long reported that McNally units sometimes go bust. The screen will turn black or it will refuse to turn on. It's possible the hardware is too sensitive for a truck's vibrating and sometimes harsh movements. However, McNally does offer repair and replace programs that minimize the impact of this problem.
Cost for Rand McNally TND 740: $399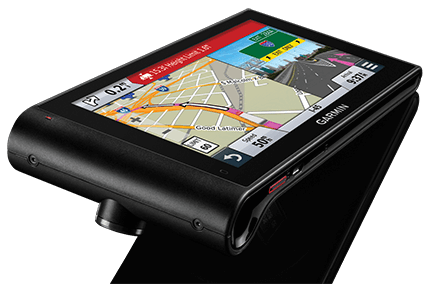 Garmin Dezl 770LMTHD Review
Garmin is a well-known name in GPS technology and is used in millions of consumer households in the United States. In recent years, they have expanded their market to include truckers and their specific on-the-job needs. The Dezl 770LMTHD is a 7" HD unit. There is also a similar model called the DezlCam that provides all of the GPS features plus a built-in dash cam.
Garmin Dezl 770LMTHD Pros:
Hands-free, voice activated navigation (Tell Garmin what you need instead of touching the display)
Directions use landmarks whenever possible to avoid hunting for small street signs
Bluetooth calling
DezlCam LMTHD model features dash cam with incident recording function
Garmin fleet management integration for small carriers
Garmin Dezl 770LMTHD Cons:
Several of the best features of the Dezl770 are spotty. For instance, Garmin claims you can enter your truck's custom information to receive rerouting and alerts about weight and height limits. However, many truckers find the Garmin simply tells them "Truck Accessibility Unknown." Some truckers have also reported that Garmin redirects them from the shortest or most efficient routes without reason.
Cost for Garmin Dezl 770: $379.99
Cost for Garmin DezlCam: $499.99
Features that both Garmin Dezl 770 & Rand McNally TND 740 units offer:
Lifetime maps and traffic (This is an upgrade for McNally, which used to charge $20/year for traffic)
Magnetic mount charger (Charges the unit through the mount without cables hanging down)
Lane guidance (Garmin has the edge here with its "photoReal Junction View")
Warnings about weather, accidents, construction, and other truck restrictions on the road
Backup cam compatible (Both companies require you to use their own backup camera)
Additional GPS Budget Options: Older Rand McNally & Garmin Models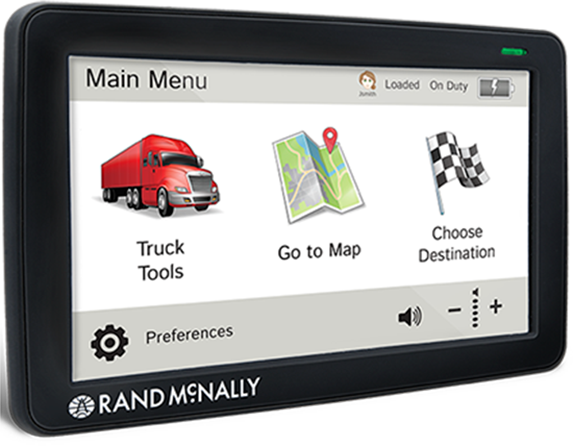 McNally TND 730LM Review
This is the model prior to the latest 740. The 730 offers many of the same features, including a 7" screen, lane assistance, and hour and fuel logging. It, too, offers back-up camera input and Wi-Fi enabled features like weather and fuel prices. However, the 730 does not offer the ELD compatibility that its successor model does.
The other differences between these two McNally models is the clarity of the screen, the storage capacity and the processing speed with the 740 taking the edge. The 730 includes a suction cup windshield mount instead of a magnetized charging mount like the latest 740 model.
When the 740 is officially released in May 2017, you can expect the 730 model to drop in price from $399 to about $300.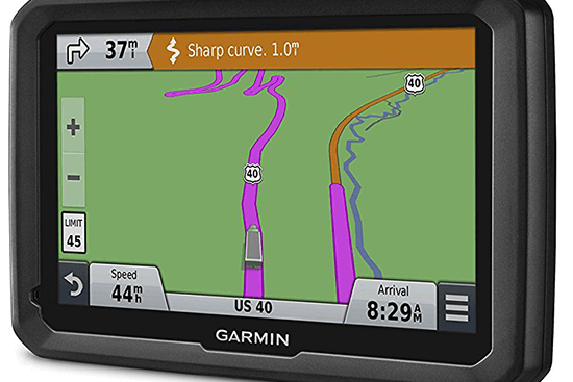 Garmin 570MLT Review
This Garmin unit is nearly identical to the above 770. In fact, they were both released at the same time. The Garmin 570MLT offers the same robust and feature-laden functions, and overall, its reviews are great. The main difference in the two Garmin models is that the 570 offers a smaller 5" screen that is not in HD. However, it is more affordably priced at $299.99.
What about the best trucker GPS Apps?
While there are some Android- and iPhone-based GPS apps that claim to be designed for truckers, they are almost always lacking compared to stand-alone units. First, no GPS worth having is free; most offer a short free trial and then charge a monthly fee. Still, these cheap truck GPS software apps can be worth it in some cases, particularly if you own a Wi-Fi hotspot that can help avoid data overages.
Of the available trucker GPS apps, the best-reviewed include SmartTruck Route for Android, which runs about $15/mo or $59/year. You will find the iPhone version of SmartTruck Route here.
The other well-reviewed GPS app designed for truckers is CoPilot. CoPilot requires a one-time fee of $149.99. However, CoPilot has not been updated since December 2015, which means some much-desired features offered in newer stand-alone units may not be available.
Updates on Unavailable GPS Models For Truck Drivers
Other trucker GPS reviews will list brands such as Cobra, PC Miler, and Telogis, but we do not recommend these models. Many of these reviews are simply outdated. Read on to learn why.
Cobra 8500 Pro HD Review
Cobra is best known for its CB radio products and radar detectors. The company released four GPS models: the 6100, the 6500, the 8200, and the 8500. These models are still frequently mentioned in compilations of the best GPS for commercial trucks.
However, due to mediocre reviews, Cobra no longer sells any of its models directly. If you are able to find one through a local retailer, however, the Cobra 8500 Pro HD can be a decent, inexpensive choice. Just beware that since these navigation systems are considered "legacy products," you may not get the upgrades and support you need in the future. When they are in stock at third party retailers, the 8500 models run as low as $180-$200. If you find it at any price above that, you'll be better off looking at an older model from either Garmin or Rand McNally.
PC*Miler
You'll find PC*Miler listed on many truck GPS reviews, but these units are no longer being made or supported with updates. Currently, PC*Miler offers its navigation software as part of a licensed fleet management package that starts at $1895.
Telogis Navigation for Android
The name Telogis also pops up in several outdated truck GPS reviews, yet it's another one that's a bit misleading. Telogis is primarily a fleet management software that costs thousands of dollars. Their GPS app is a functionality add-on to their fleet management tools. This means you'll need a company account to create an assigned driver log-in in order to download and use the app. So unless your carrier tells you to use Telogis, save your time and look for another app or stand-alone GPS unit.