Every truck driver has the same goal – To deliver their loads on time and to the right place. Yes, there is a lot that goes on from loading to delivery, but what matters most is that the goods get delivered.
And the best way to ensure that happens is to feel confident in the routes you're taking. Whether you're a long-haul driver or hot shot loading, having the best trucking GPS to navigate you is essential for success.
Here are a few of the features that most truck drivers look for in their GPS:
Accurate fueling destinations and pricing
Lists points of interest (truck stops, rest areas, weigh stations, hotels)
Custom routing options
Detailed and updated maps
Live Traffic and Road Alerts
Live Weather Updates
Bluetooth® Enabled
Hands-free calling
Built-In Dash Cam
That's why we're going to let you know our favorite picks for the best GPS for truck drivers to have in 2019.
A quick search online will find you a lot of GPS options but there are two brands we recommend for your truck.
Garmin Or Rand McNally GPS For Trucking
Which trucking GPS is better?
When comparing Garmin vs. Rand McNally truck GPS, it really comes down to the features and how it helps you deliver your loads safely and on time. Features like custom routing options, road warnings, up-to-date maps will be key, so let's discuss the best GPS each offer for 2019.
Garmin Truck Driver GPS Options for 2019
An all-in-one, feature-rich GPS navigator that delivers as well as you do.
Pros:
Ideal for long-haul truck drivers
Built-in 7-inch dash cam to record your drive and enable driver awareness features
Durable construction
Custom truck routing options based on size, load, and weight of your truck
Up-to-date road alerts
Provides weather and traffic information without an internet connection
Provides multiple route options with live map updates
Voice control camera with Bluetooth® hands-free calling and built-in Wi-Fi®
Provides easy break planning with lists of nearby points of interest
Backup camera compatible
Cons:
SD Memory Card needed for extended memory
Does not include Bluetooth headset
What we love about the Garmin dēzl series is it comes with a lot of the safety and technical features you want in a modern, dependable GPS. The cons are minimal compared to all it has to offer.
Other GPS from Garmin to consider
dēzl™ 580 LMT-S – This model does not come with a dash cam and is slightly smaller at 5 inches. What is great is that it has all the same features as the dēzlCam 785 LMT-S.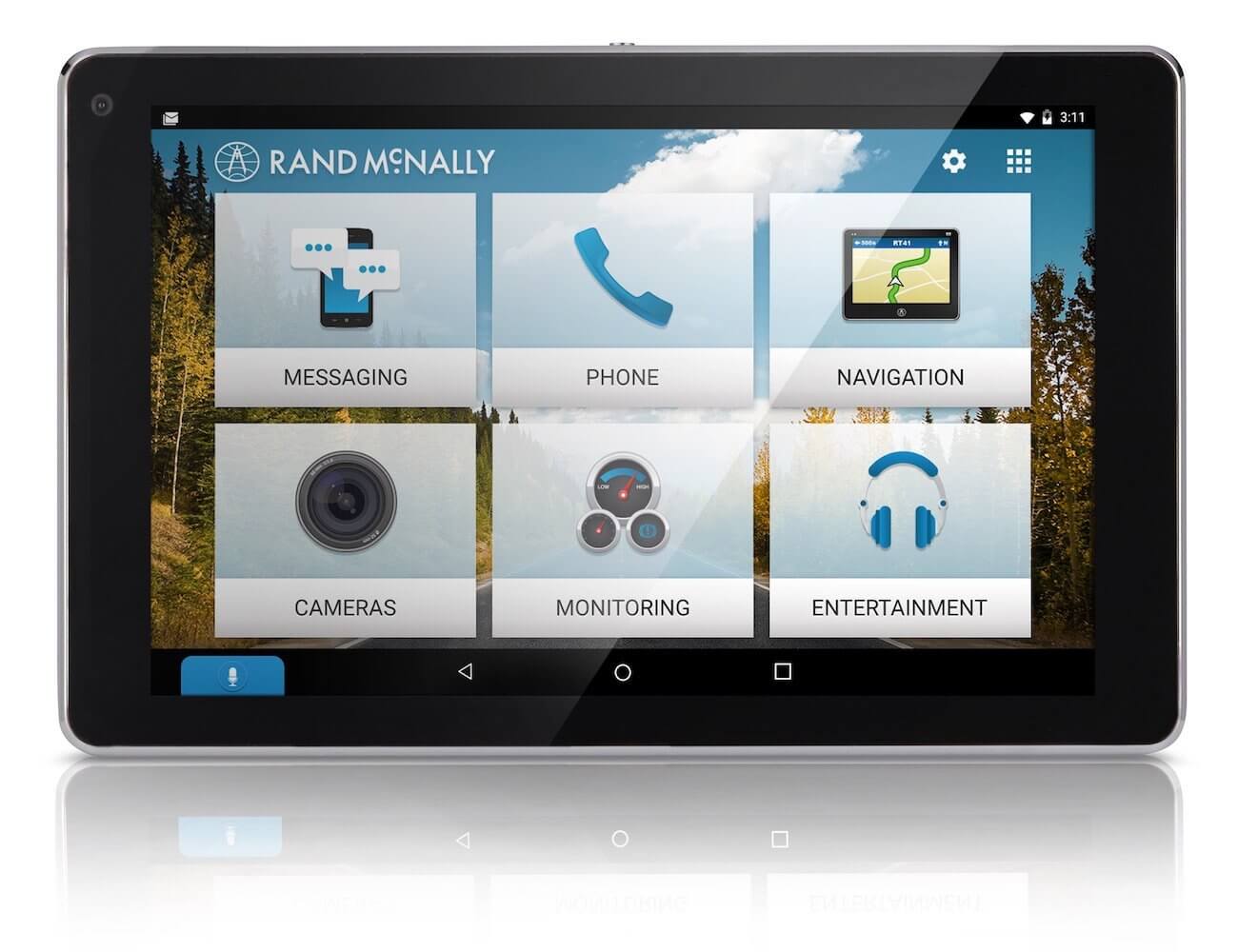 Rand McNally Truck Driver GPS Options 2019
An all-in-one dashboard device that's the perfect companion for any commercial truck driver.
Pros:
Built-in 7-inch dash cam to capture road conditions ahead
Compatible with Rand McNally ELD systems
Award-winning truck-specific navigation
Provides real-time updates about the weather, traffic, and fuel prices according to your route
Advanced lane guidance
Up-to-date route comparison and road alerts
Provides fuel logs
Convenient voice assistance for weather, sports, traffic, music and more
Built-in SiriusXM radio
Hands-free calling, texting and navigating
Cons:
SD Memory Card needed for extended memory
Bluetooth headset not included
Rand McNally always offers dependable GPS that help navigate you from point A to B. If your fleet uses Rand McNally ELD systems, this is the GPS for you. And one of the best built-in features with the OverDryve Pro is the satellite radio and entertainment.
Other GPS from Rand McNally to consider
TND™ 540 – This 5-inch screen GPS is a reliable navigation system that has advanced navigation services, more storage, faster processor, more smart features than previous models. Plus, it's compatible with Rand McNally ELD systems.
Trucking GPS Options In 2019
In 2019, we should expect our GPS to work as hard as we do and these two GPS's are by far the best bang for your buck. Both have all the safety and tech features to help you save on fuel, avoid traffic, and find the best route to get you to your destination safe and sound.
For more questions on the best truck GPS, trucking equipment and dispatch software, contact the small fleet experts at HaulHound. Our comprehensive and easy-to-use software can be an extra tool on the road that helps you keep your truck filled and make you more money in the new year.