Last year, market research firm Frost & Sullivan that North American truckers log 20 billion "empty miles" — that is, miles driven by trucks without cargo — annually.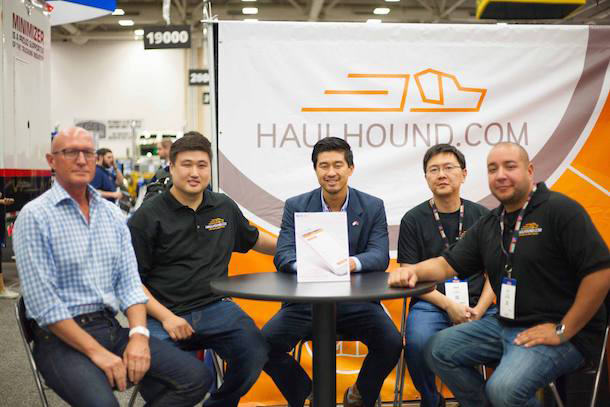 "To put that into context, that's 7 million times across the United States from the eastern shore to the west coast," said Andy Kim, co-founder and President of HaulHound, a Chicago-based logistics startup.
Driving empty trucks around is bad for business. The amount of work for truckers on round trips is more or less the same regardless of whether they pick up cargo on the way back. Moreover, trucks consume a lot of fuel, even without semis in tow, so those empty miles end up creating unnecessary emissions to the industry's carbon footprint.
By creating a marketplace where shippers can find truckers with available capacity, HaulHound wants to reduce the number of empty miles logged — and the logistics industry's environmental impact alongside it.
A former manager at a third party logistics firm, Kim started the company as a side project in 2015 alongside Chris Faltin, a third generation truck driver whose family owned a small fleet.
"Between the two of us, we represented the full chain that goes into the supply chain industry," said Kim. "And this was a pain point we had both experienced — when we were looking for capacity on my side, and on my co-founder's side where it was hard for him to easily and cost-effectively post his capacity."
For shippers looking for available truck capacity, HaulHound looks a lot like a consumer travel site. After choosing their pickup and delivery locations, the shipper sees a list of available dates, along with some details about the logistics provider and the truck itself. The shipper then can narrow down their search results and book directly with the provider of their choice.
In order to provide up-to-date search results, HaulHound integrates with the internal tracking systems of a number of large logistics firms. These integrations pose something of a technological challenge because many companies have custom-built systems.
"It's a very fragmented market and you have to adapt your technologies to fit everyone's home-built technologies and make sure everything is in real time," Kim said. "It's tough to integrate because there's no standard management system that everyone uses, and there's no database that we can link into."
In Kim's view, however, the upfront investment is worth it because it ensures that the data on the platform is always up-to-date and makes the collaboration seamless for companies who use it.
In order to bring independent operators onto the platform, HaulHound also provides a smartphone app that enables them to post availability and manage bookings while on the road.
As one of the country's chief logistics hubs, Kim said Chicago was a natural choice when he was deciding where to start his company. He is not alone in that assessment. From Brad Keywell and Eric Lefkofsky's Echo Global Logistics to fast-growing upstarts like FourKites and project44, the city's supply chain technology companies are making their mark on the industry.
Kim's hope is that his 20-person company will someday join their ranks.
"I have a lot of pride in Chicago, and in all the initiative that Illinois as a whole has been taking to try and cultivate us and bring us up to speed," he said. "There's a grittiness to Chicago, and I don't think there is a better hub for business-to-business technology."
For the time being, HaulHound is free both for shippers and providers because the company's chief focus is on bringing as many users as possible to the platform. Kim said he'll focus on the monetization strategy once the user base is where he wants it to be.
-Built in Chicago. Read original article HERE
A NOTE FROM HAULHOUND:
By consolidating shipments through our aggregated site, our service reduces the number of trips that a truck has to make to deliver their packages. Haulhound aims to find and fill every empty truck to ensure that no travel time is wasted. Because fewer trips are needed to transport all necessary freight, the amount of fuel, as well as associated emissions, are greatly reduced. In an industry whose operations directly impact the environment, we are proud to provide a service that improves efficiency for the industry and reduces negative environmental impact as a whole.