Equipment Types
Select a type below to view more information.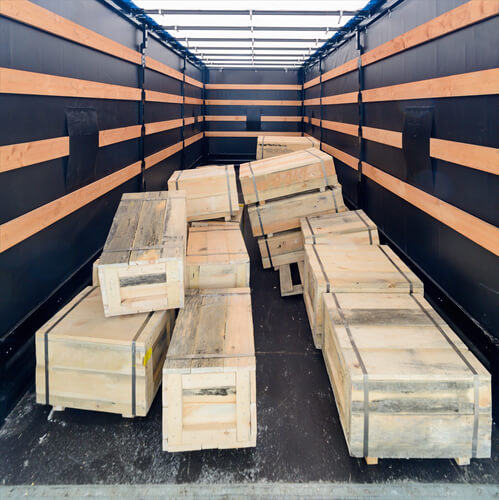 Weight Limits
Drivers are required to abide by the legal weight limits both on their axles and the gross vehicle weight.  If a driver is found to be over weight on the axles, the driver can have the pallets moved around in the trailer to distribute the weight of the pallets evenly across the axles.  If a driver is found to be over weight on their gross weight, the driver must either have pallets taken off of their trailer or burn fuel to reduce the overall weight of the driver's truck, trailer and freight on board.
Maximum Legal Axle Weights
Steers: 12,000lbs
Drives: 34,000lbs
Tandems: 34,000lbs
Maximum Gross Legal Weight of a Trailer: 80,000lbs
Maximum Legal Height of a Trailer: 13'6"
Hours of Service
11 Hour Driving Limit
A driver can drive a maximum of 11 hours after 10 consecutive hours were spent off-duty.
14 Hour Limit
A driver may not exceed the 14th consecutive hour of driving after coming on duty, following 10 consecutive hours off-duty. Time spent off-duty does not extend the 14 legal shift.
Rest Breaks
A driver may drive only if 8 hours or less have passed since end of driver's last off-duty break, or if a driver has spent at least a 30 minute period in their sleeper berth.
60/70 Hour Limit
A driver may not drive after 60 or 70 hours on duty for 7 or 8 consecutive days. A driver may restart a 7 to 8 consecutive day period after taking 34 or more consecutive hours out of service.
Additional Specifications
Additional Specifications are items carried by the driver to help secure the freight or other equipment related specifications.
Air Ride – the type of suspension a trailer has to support the load in the trailer. Air Ride provides a much smoother ride compared to a spring suspension.
Blankets – some carriers carry blankets in order to either wrap furniture or protect other types of commodities. Reefer carriers may also carry blankets to insulate certain pallets while being transported.
E-tracks – e-tracks are mounted to the interior walls of the trailer. Load straps are latched onto the e-track, then tightened, in order to secure pallets to keep them from shifting while being transported.
Lift Gate – a lift gate is found on the tail end of the trailer and is used to raise or lower pallets on to or off of the trailer when a dock is unavailable.
Load Locks – load locks are adjustable bars that secure pallets to the trailer floor or walls to prevent them from shifting while being transported.
Load Straps – load straps or ratchet straps are flexible nylon straps used to secure pallets to prevent them from shifting while be transported. Commonly known as ratchet straps.
Special Capabilities
Special Capabilities are specifications and certifications that a trucking company or driver are able to provide as an additional service.
Food Grade – a trailer is considered food grade when it is clean, dry, odor free and no holes.
Hazmat Certified – a driver is able to legally haul hazardous materials.
Inside Pickup/Delivery – a driver is willing to pick or deliver freight inside of a building. Example: a driver needs to deliver two pallets of computer paper to the 10th floor of an office building.
Residential Pickup/Delivery – a driver is willing to pick up or deliver freight to a residential address. Example: a driver picks up or delivers a refrigerator to a residence.
Tanker Endorsed – a certification for drivers that haul liquids stored in intermediate bulk containers.
Team Driving – two drivers are in the truck allowing the truck to virtually never stop due to a driver being out of service hours.
TWIC – (Transportation Worker Identification Card) this certification is a security clearance that enables drivers to access certain parts of import/export ports and rail yards. Drivers must be a United States citizen and must have not committed certain crimes in order to be approved for a TWIC card.